Significant advantages over standard commercial ice making machines

A machine that simply plugs in, you fill the tray with water and turn on – easy! The fast and simple way to make ice in your own home for parties. Friends and family will enjoy an even better time with a sufficient amount of homemade ice on hand.
Home ice making machines are popular for its significant advantages over standard commercial ice making machines.
These advantages include:
Portable, compact ice making machine
No requirement of plumbing in
Great for offices/boardrooms
Ice at the touch of a button
Here is how it works …………..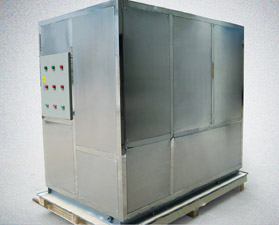 A home ice making machine is nothing like a commercial ice making machine. Its small size, compact build and simplicity of use makes it a good choice as a home appliance.
Portable and compact, the home ice making machine comes in various kinds of shapes with variations on where it opens to put the water in, etc. For instance, it may have a top cover that opens vertically or a central drawer that pulls out. You ought to receive a mains lead when buying a home ice making machine and usually ( but not always!) an ice scoop. Most machines have a control panel which makes it very easy to operate.
You may use the ice you make for lots of things – to chill lager in bottles or cans or in an ice bucket for bottles of white wine or champagne. Also ideal for keeping juice and soda drinks cool.